Taco Tuesday: 2024 Toyota Tacoma Renders and Rumors
There's been a lot of chatter on the internet the last few days about the 2024 Toyota Tacoma thanks to recent renders from artists like Tacoma4G and TheSketchMonkey. The 3rd Generation Tacoma is now into its seventh production year and many Toyota enthusiasts are chomping at the bit to see what Toyota has in store for 2024 as we're starting to see more and more spy photos pop up on sites like MotorTrend and Motor1. There have been whisperings of more aggressive styling to match the newest iterations of Tundra, Sequoia, and Land Cruiser, and top automotive reporters have speculated that the newest Tacoma could potentially feature a turbo charged, hybrid engine. Read on to hear our thoughts on the upcoming 2024 Toyota Tacoma.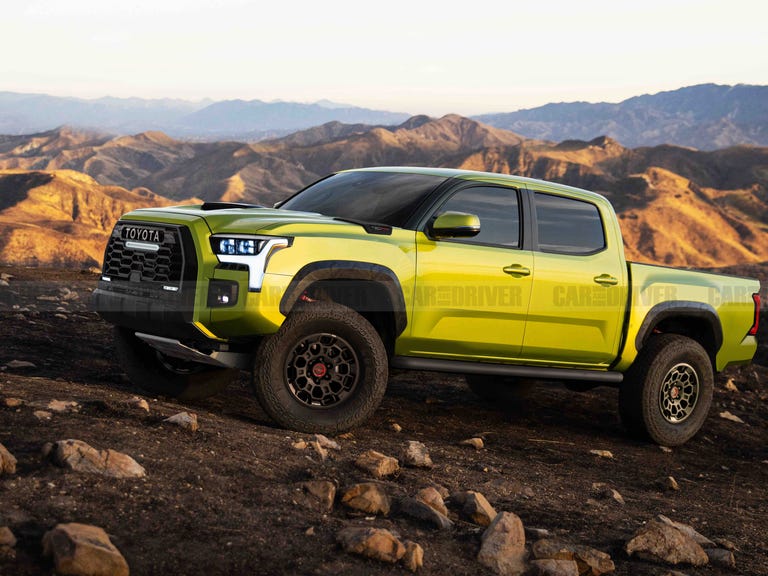 (photo: CarAndDriver.com)
Exterior Updates |
In 2022 we saw some radical new things from Toyota with the Tundra, Sequoia, and Land Cruiser. They sharpened angles, widened fenders, and generally beefed up the rather bulbous figure of the previous generation. It only makes sense that Toyota will follow a similar design language and give the 2024 Tacoma a much needed exterior update with aggressive lines and futuristic style. From renders, we see elongated headlights that extend down the front bumper and outward to the fender. The grille has a similar look and feel to the TRD Pro Tundra and we can only assume it'll be equipped with an LED light bar from the factory.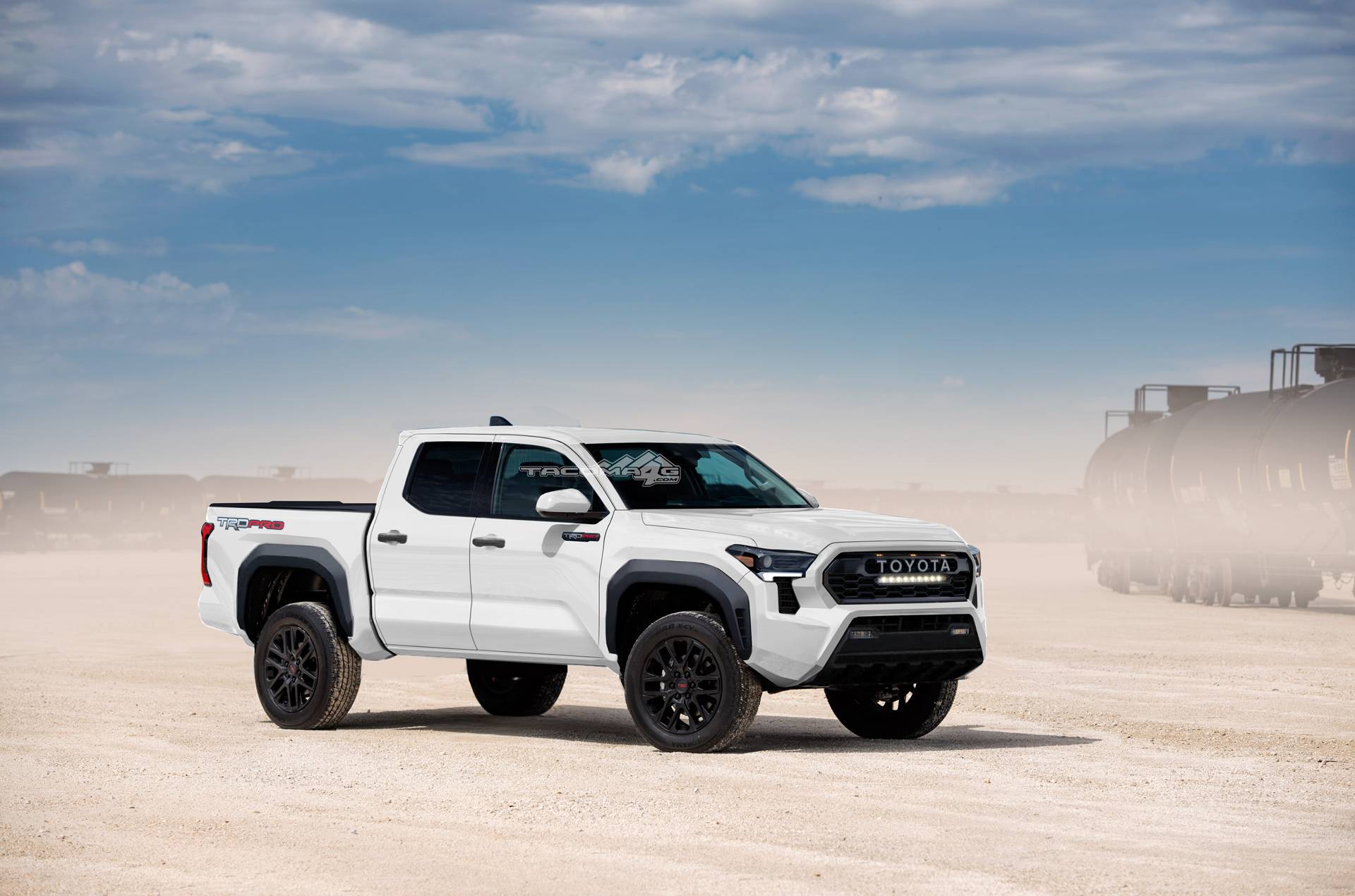 (photo: Tacoma4g.com)
Other exterior features the renders lead us to believe will be seen in the next Tacoma include LED headlights, a more aggressive front bumper with an improved approach angle, and body lines that flow through the doors and into the bed. It's safe to assume the TRD Pro will have a much more aggressive look than base and mid-tier models, but changes will be drastic on all levels.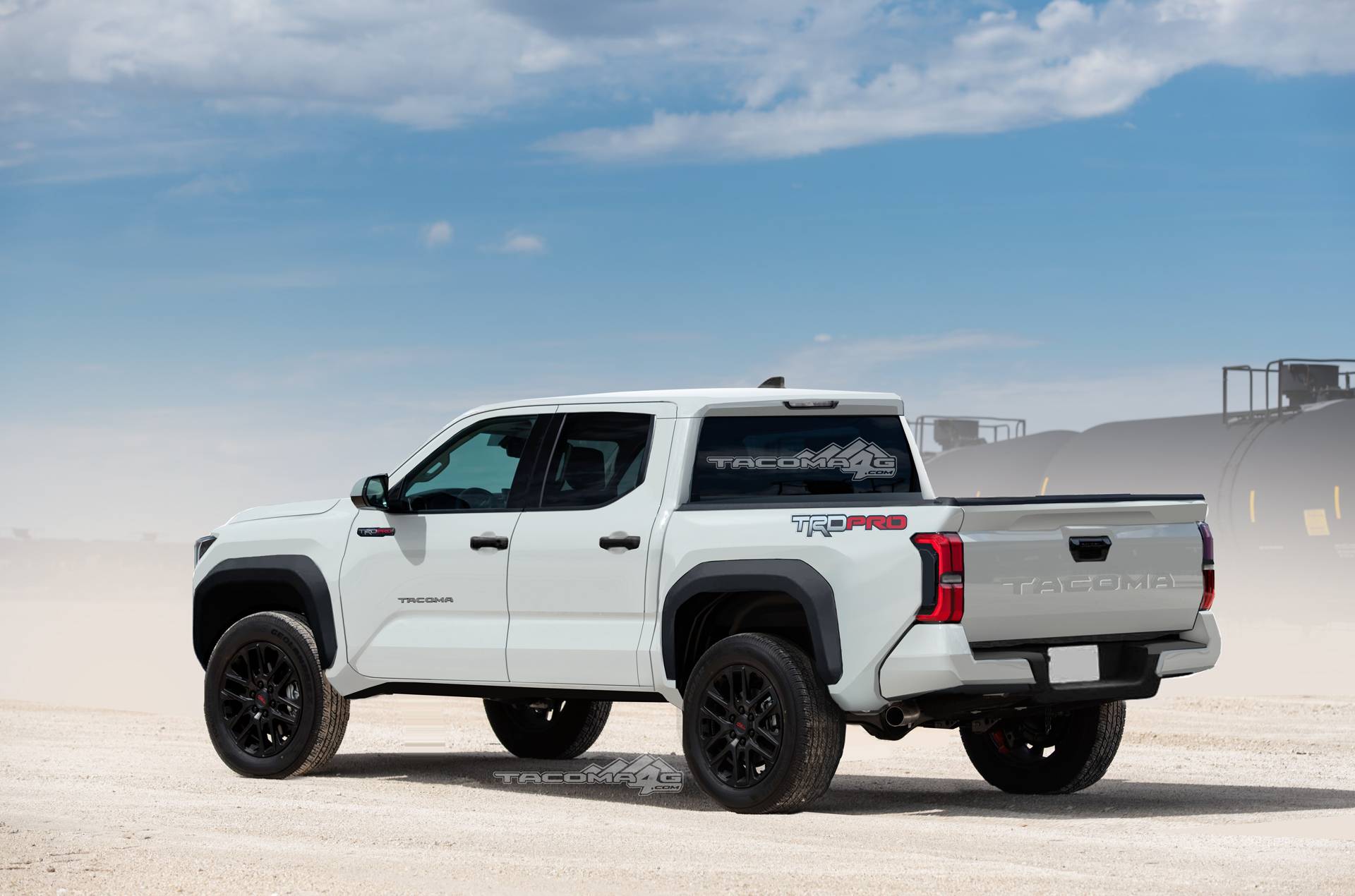 (photo: Tacoma4g.com)
Engine and Performance Speculations |
While there haven't been any particularly remarkable engine updates to vehicles of a similar size in the current Toyota lineup, the rumor mill is turning and people are speculating that we'll see either a 2.4L turbocharged four-cylinder or a 2.4L turbocharged four-cylinder hybrid engine in the next generation Tacoma. Both engine configurations are currently available in both the 2023 Lexus NX and 2023 Lexus RX SUV's, and boast performance figures we haven't seen in previous versions of the Tacoma.
(photo: Carbizzy)
The spunk of 275hp and 317 lb-ft of torque in the non-hybrid 2.4L i4-turbocharged engine could potentially make its way into lower trim level Tacomas, and would be less sluggish compared to previous generations. Considerable performance increases could be expected from a 2.4L i4-turbocharged hybrid engine should Toyota use the same engine from the current 2023 Lexus RX 500h F Sport Performance Hybrid. We'd likely see something like 367hp and 406 lb-ft of torque in the TRD Pro and other hybrid models. WOW!
Surely the updates to the drivetrain and performance slated for the 2024 Tacoma are not short of spectacular. With Ford bringing the Ranger Raptor to the USA, and Nissan investing more into the Frontier, Toyota will have to pull out all the stops to compete.
Interior Refresh |
In seven years there have been few changes made to the interior of the Toyota Tacoma. Since 2016, we've had pretty much the same media system, seats, and textures. While they aren't terrible, they're starting to look and feel outdated. If you've had the opportunity to sit in or drive a new Toyota Tundra or Sequoia, you've experienced modernized comforts like heated and cooled seating, updated SoftTex® synthetic leather, and a much improved JBL entertainment system. These creature comforts have taken both the Tundra and Sequoia to new heights of luxury and comfort. While they aren't necessarily "luxury" vehicles, they aren't inexpensive either, and absolutely warrant having a better interior experience. The reason we dive so heavily into the interior features of these two flagship Toyota models is that we see their updates and technology trickle into other vehicles in the Toyota lineup, and hopefully that will include the 2024 Tacoma.
(photo: cnet.com)
We'd love to see a similar interior configuration to the new Tundra. The red SofTex® trimmed seats are energetic and sporty looking while offering the best in comfort and durability. We also want to see the fourth generation Tacoma feature a better sound and infotainment system. However things shake out there should be a decent interior refresh in the next Tacoma.
Final Thoughts |
Hype for the 2024 Toyota Tacoma is definitely building, and it's safe to say we're not the only ones excited to see the next iteration of Toyota's most popular truck. If the renders and spy photos we've seen in recent months are anything to go off, this should be an exciting addition to the Toyota lineup.
(photo: Kolesa)
What're your thoughts? Do you think the next Tacoma will be as exciting as we think it will be? Let us know in the comments. Thanks for reading!